Pool Landscaping Ideas
A swimming pool is more than just a place to swim. It's a place to relax and gather with friends and family in your backyard. That is why the landscaping around your pool is essential in creating your perfect outdoor living space. Whether you prefer hardscaping and outdoor furniture or lush gardens and water features, the possibilities are endless to enhance the beauty of your swimming pool and outdoor space. Continue reading for ideas that will inspire your pool landscaping project!
Lighting
Lighting is a beautiful complement to your pool landscaping and can increase the safety of using a pool at night. A few ways to add lighting to your yard include uplighting trees and bushes, string lights, path lighting, or underwater lights. 
Underwater Lighting 
Adding submersible LED lights to your pool creates a peaceful ambiance and offers excellent visibility so you can enjoy your swimming pool even after the sun sets. These lights are available in various colors, so you can choose your favorite color to illuminate your swimming pool. 
String Lights 
String lights are a beautiful way to add to the ambiance of your backyard. Not too bright and not too dim, they create the perfect glow for any space. 
Pathway Lighting 
Illuminating steps and walkways increase safety for anyone using the pool after dark and also add a bright, warm ambiance to your pool area. 
Spotlights
Spotlights are commonly used to highlight key features in your landscaping, such as fountains, sculptures, trees, bushes, and more. 
Hardscape Features 
Adding hardscape elements to your landscaping can add form and structure to your pool area. 
Pool Decking  
Pool decking is essential to any swimming pool area for functionality, practicality, and aesthetic purposes. This area serves as a space for socializing, sunbathing, relaxing, and more, so choosing the best material for your pool deck is important. Durability, safety, maintenance, aesthetics, and budget should all be considered when selecting a material for your pool deck. Some of the most popular materials for pool decks include concrete, pavers, wood, composite decking, and natural stone. 
Concrete
Concrete is highly durable and can withstand harsh weather and the wear and tear of a swimming pool. You can also customize concrete to your preferences with stamping, colors, or textures to create unique patterns. Concrete can be sealed so it is slip-resistant. It is relatively low maintenance and may only require occasional resealing.
Pavers
Pavers are highly durable and can handle heavy foot traffic. They are available in many shapes and colors so that you can create a unique design for your pool area. Pavers are often slip-resistant and are easily replaceable if damaged. Maintenance is also relatively low and only requires replacing sunken or damaged pavers. 
Wood
Wood offers an elegant, natural look that can enhance outdoor living spaces. This material does require more maintenance, including regular staining, sealing, and cleaning to prevent rot and splintering. Properly maintained wood can be slip-resistant and is great for staying cool underneath feet on hot days.
Composite Decking
Composite decking is resistant to moisture, insects, and rot. Some composite materials are designed to be slip-resistant, and this material is relatively low maintenance. Composite decking can also mimic the look of wood minus the maintenance of wood pool decking. 
Natural Stone
Natural stone such as travertine or limestone is durable, resistant to harsh weather conditions, and creates a beautiful, luxurious appearance. It also stays cool, making it a great option if you're looking for a comfortable surface to walk on, even on hot days. 
Stone Pathways
A pathway to your pool is a stunning and functional addition to your backyard, especially if the pool is located further from your home or you must walk through the grass to get there. There are various stone styles and options, allowing you to customize the appearance of your pool area. Similar to pool decking, a slip-resistant material is best. 
Rocks 
Landscaping with rocks offers your pool area a low-maintenance, beautiful look and natural feel. Rocks are popular for creating texture and contrast in your landscaping elements. 
Fire Pits
Adding a fire pit to your pool area is a simple but beautiful way to create natural lighting and a peaceful, warm ambiance. 
Outdoor Structures 
An outdoor structure like a gazebo, pergola, or pavilion creates a source of shade next to the pool and a place to relax. You can also add outdoor furniture underneath the structure of your choice to enhance comfortability and poolside relaxation. Outdoor furniture like lounge chairs, dining sets, and umbrellas create a welcoming space for your guests.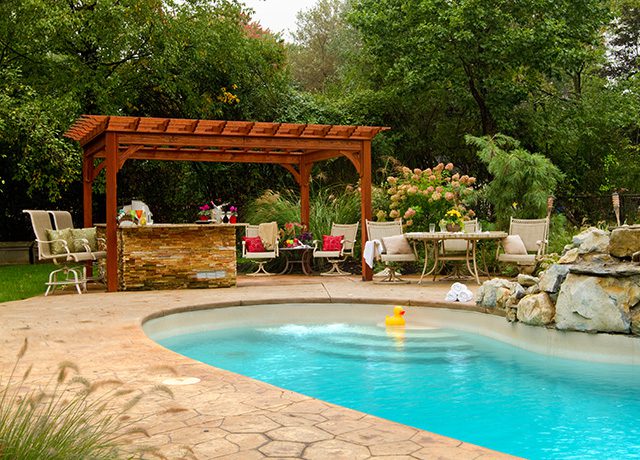 Plants
Integrating plants and flowers into your pool landscaping brings vibrancy and natural beauty to your outdoor living space. Not only do plant life and flowers create beauty in your yard, but they can also offer shade and privacy. When choosing the plant and flower types for your pool area, consider the following factors:
Maintenance 
Choose plants that are less likely to drop leaves or debris into the pool, as this can increase maintenance and cleaning. Some popular options include grasses, succulents, and palms. 
Climate 
Consider plants and flowers that do well in your climate. For example, cacti would do well in dry, hot weather. 
Privacy 
Plants can create a natural screen for privacy. Consider adding tall shrubs and trees to shield your pool area. 
Landscaping Style
Choose plants that complement your pool design and landscape. Palm trees and hibiscus are great options if you have designed your landscaping with a tropical feel.  
Landscaping your pool area can significantly enhance your outdoor living space and experience. Whether you prefer a modern style or a resort-like style, these landscaping ideas provide a starting point to create your dream pool area.