Pool Repair in Scottsdale, AZ
in Phoenix, AZ and surrounding areas
POOL REMODELING AND REPAIRS
In a place as warm and inviting as Scottsdale, Arizona, it is important to have the opportunity to cool off and relax in the perfect swimming pool. A custom design for a new pool, or remodeling of an existing pool, and gorgeous patio area, help residents enjoy the beautiful desert-like outdoors. We Fix Ugly Pools provides the full array of services to current and future pool owners in and around Scottsdale, AZ.
Most of the people in Scottsdale and its surrounding towns, like Paradise Valley, Chandler, Fountain Hills, and Glendale, AZ , appreciate the average summer highs of around 100 degrees. The summer runs from May to mid-September, and then the fall average is still 87 degrees. Even the winter temperatures stay in the 70s. It is no wonder that so many people delight in their outdoor spaces. Ask any Realtor in our area and they will tell you how important having a pool is, when it comes to selling a home.
Speak with a swimming pool expert today!
About Our Pool repair in Scottsdale, AZ
If you need pool repair in Scottsdale, AZ, there are a number of services we can provide.
Some of the pool repair in Scottsdale services we offer includes:
Fixing pumps, motors, and heaters
Replacing skimmers
Cleaning filters
Checking and fixing pool systems
Repairing tile or surfaces
When your pool isn't working properly, our pool repair in Scottsdale pool technicians can full inspections and estimates. They can even offer some basic updating, such as time clock replacements or installing remote controls.
Cleaning tile at the waterline or doing a complete acid wash will make a pool surface sparkle; even decks can be repaired to make the surrounding area safe and inviting.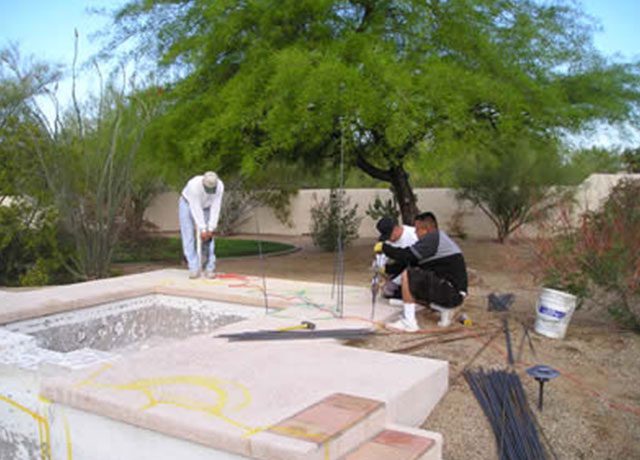 Maybe a pool needs a remodel to make it stand out. Consider options like adding a spa or sun shelf. Maybe swim-up seating or deck jets will make the area extra special. Changing the overall surface of the pool and some of its accessories has a big effect as well. As Scottsdale, AZ pool remodelers, we can alter many areas within the pool for a completely new look. For example, the cap tile or waterline tile can be updated, or tile inserts offer a new pattern within the existing tile display.
Sometimes remodels include more than just tile changes. More dramatic options include installing a natural rock waterfall, or taking this a step further and creating a sculpted rock waterfall slide and grotto. Stacked stone offers an eye-catching visual change. Even the pool's entire depth and shape can be altered to suit the owner's desires.
Sometimes the water itself can be part of the renovation. Besides waterfalls, our skilled pool remodelers can install telescopic fountains, deck jets, and misting systems. The fountains offer an elegant, bubbly display and later disappear completely into the pool floor. Deck jets shoot water into the pool, and gentle misting systems keep those lounging around the pool cool and comfortable.
We Fix Ugly Pools®
Show Room / Construction Office:
1924 West Greenway Rd
Phoenix, Arizona 85023
Phone: 602-253-4499
Fax: 888-661-3910