About The Types of Fire Pits
Fire pits are available in a wide selection of styles, including tile, copper, and concrete, but there are three main types that you can choose from when adding this popular piece to your landscape design. You will need to know which type of fuel you prefer to use and whether you want a portable or permanent fireplace before choosing the option that is right for your Arizona home.
1. Portable Fire Pits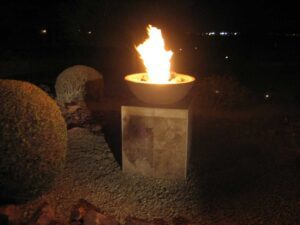 Portable fire pits offer you the convenience of being able to be placed anywhere you happen to be on your property. Most portable fire pits use wood, rather than gas or propane, making them ideal for impromptu gatherings and for use on the patio. Stainless steel is an excellent material for portable fire pits because it is lightweight enough to move but can withstand the high heat of the fire and the dramatic Phoenix, AZ weather very well.
2. Permanent Wood Burning Fire Pits
Permanent wood-burning fire pits can be installed on your property if you have an area that you already use for entertaining and want something a little larger than a standard portable fire pit. You will need to be sure that all wood-burning fires are closely watched until the last ember is gone. With a wood-burning fire pit, you have the advantage of a traditional campfire at home.
3. Permanent Gas Burning Fire Pits
A permanent gas-burning fire pit is perhaps the most convenient option. You won't need to worry about using a fire starting supplement to get wood to burn and you can put the fire out instantly with the turn of a knob. Both natural gas and propane burning fire pits are available. Natural gas can be connected to the line that supplies your home by a professional installer or you can opt to purchase a propane tank to connect to your fire pit.
All three options allow you to enjoy your outdoor living spaces at night or when the weather is a little cooler. Adding a fire pit is a simple way to add ambiance and create a traditional campfire feel on your property.