Pool Remodeling
If you have an in-ground pool, you know that from time to time, maintenance is required. Even if you clean and maintain your own pool, occasional problems may require the services of a professional pool contractor. Perhaps your pool is getting to the age where you want to consider a remodel. While there are several reputable pool contractors in the Phoenix area, how can you find one you will be happy with and avoid being scammed by a bad contractor?
Get Recommendations
The first step in considering a pool remodel is asking for recommendations from friends and family. Find out who they used and if they would use them again. Additionally, research these companies online. Examine the websites for various Arizona pool contractors and make a list of the top few that appear to be reputable. See if you can determine from their website if they provide the services you are looking for. Check to make sure they are licensed and insured and can meet all federal, local, and state codes in performing the work you are interested in.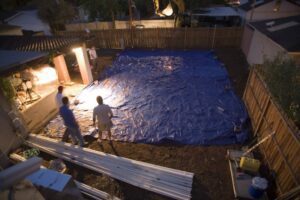 Contact Pool Companies
Next, contact several of the companies you listed during your initial research and ask questions. Find out about the services they provide and what type of experience they have. Ask for a list of customers with contact information. Find out how they will price their services and what kind of warranty they will supply. For those that remain on your list after the initial contact, visit their showroom and meet some of their people. Get a feel for how professional and courteous they are. This will help determine the likelihood of if you will enjoy working with them or not.
Once you have narrowed your search to the top two or three contractors, set up an appointment for them to come to your residence and survey the prospective work. Ask for a written estimate or flat turnkey price and make sure all the terms are clear and understandable. Beware of any contractor that demands to be paid upfront or that wants an unusually large downpayment. Finally, check with organizations that can vouch for the integrity of the contractor, such as the local chamber of commerce and the Better Business Bureau.
By going through these steps, you can find a professional pool contractor that will perform the work you are looking for at a reasonable price, and avoid getting scammed in the process.