Are Fountains Difficult to Install?
Patio fountains are a simple addition to your patio that can help you relax and enjoy the time you spend in your outdoor living spaces. You will find that there are several other excellent reasons to add a water feature to your Arizona property when making renovations to your outdoor living spaces.
1. Patio Fountains Add Value
Water features can add value to your home when they are properly installed. If you are thinking of selling your home in the future, opt for a fountain that is simple and suitable for a wide range of tastes. For instance, a basic gray concrete fountain will be appealing to more types of buyers than a specialized fountain. Make sure to have your water features professionally installed for maximum water and energy efficiency, which is important in the desert where drought is common, and regularly maintained to ensure it lasts for many years to come.
2. Create A Relaxing Space
Your patio is a place where you may go to relax. The soothing sound and sight of a fountain can help you relax and enjoy the serenity of your Phoenix, AZ surroundings. With so much desert, something as simple as a water feature can make you feel like you are in a tropical paradise with just a little imagination. Try talking to a professional in fountain installation to find a model that provides a sound that you find appealing since some models are a little louder than others.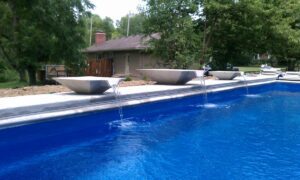 3. Quiet Your Surroundings With a Fountain
If you have a neighbor who speaks a bit too loudly or you often hear barking dogs in your neighborhood, a patio fountain can help cut these outside sounds and allow you to focus on friends and family. Opt for a splashy, rich-sounding water feature when your goal is to provide a sound barrier against the outside world.