in Phoenix, AZ and surrounding areas
Luxury and custom-built pools enhance the look of residential homes and estates. Pools have many different types of functions; a recreational hub for a family, decorative, and ideal for front and back gardens. They add character to homes while also providing hours of entertainment.
Speak with a swimming pool expert today!
Types of Custom Luxury Pools
Luxury pools are available in many sizes and shapes. Creativity certainly plays a part in custom pool design.
People who consider a pool to be comparable to going to the beach may choose one with a wide-open entry or a walk-in, Zero-Edge design. These can be ideal for young children or for senior citizens with arthritis. Furthermore, pools can be specially designed to be intentionally shallow for people who prefer a water level that is not too deep.
In addition, other features ideal after a long day after work includes jet spas. Making use of specially enhanced jets designed for pools can take away aches and pains as well as daily stress.
Another benefit of choosing custom-built luxury pools is the fact that it's designed specifically for you, within your yard. Luxury pools can fit the contour of a yard or wrap around a patio or gazebo. These custom pools may take various forms and do not have to follow specific designs, it truly depends on what the owner is looking for.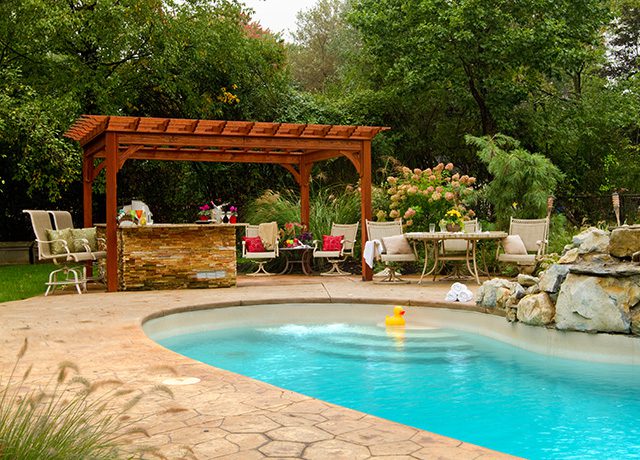 Custom Built Pool Designs
Customers become quite creative when designing luxury pools. A cave or a grotto may be just the right addition, helping a mediocre pool become superior. These are perfect for parties or relaxing at night, accompanied by lighting features and their various nuances. In addition, a waterfall may further enhance a pool. A waterfall stream can drop from just a few feet or range over ten feet high. Seating can be placed immediately under or next to the waterfall.
While waterfalls and caves are great, some families prefer a different experience and decide on a lazy river. Rivers can be created to snake across the estate of a facility. Furthermore, there is the possibility of having the lazy river become strong rapids as people enjoy the water on inner tubes.
When considering luxury and custom-built pools, call the We Fix Ugly Pools team. With many years of experience, they are the team to beat. A certified representative is available to visit your site and give a consultation on what can be done in terms of a pool design.
A quick phone call is all that is needed to begin this delightful endeavor today.
GET A FREE ESTIMATE
Call (602) 253-4499 or use this form
We Fix Ugly Pools®
Show Room / Construction Office:
1924 West Greenway Rd
Phoenix, Arizona 85023
Phone: 602-253-4499
Fax: 888-661-3910